Harbour tug M/s Alpo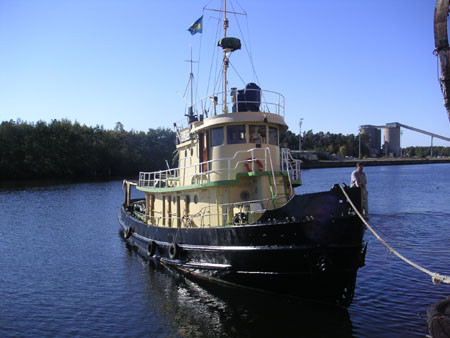 Tug M/s Alpo resting in the Toppila harbour. The tug has a colorful history from U.S. to Normandy and finally to Toppila harbour at Oulu.
The ship was originally built in 1943 in City Island , USA, by the order of the US army. It was called USAT-ST-335.The same year it joined the convoy to Europe in order to participate in the preparations of the Normandy landing. Among the tasks of the sea tugs in the operation was to tow parts of the artificial harbour, fuel pipes and diverse vessels. Appr. 6000 ships took part in the operation only few of which returned in orderly condition. ST-335 belongs to the lucky ones. After the Normandy landing it helped the war operations by towing provisions and war equipment from England over the Channel to France.
In 1946 the tug was bought by the Finnish navy and renamed DR-18. It served in mine clearing on the Gulf of Finland. 20 vessels were lost or damaged during this operation but the journey of DR-18 went on and next it helped in towage operations related to Finland's war embursements.
In 1951 the town of Oulu purchased DR-18 and had it modified for winter condi-tions at the F.W. Holming drydocks in Rauma. It was also renamed according to the deputy city major of Oulu, Alpo Autio. As m/s Alpo the ship became well-known to the citizens of Oulu as traffic in the Toppila harbour grew more active after the war.
M/S Alpo served as an icebreaker and harbour tug from 1952-71 until re-placed by another vessel. Then it was partly "retired" to work as support-ing tug until 1990. It was kept in condition till 1995 to be used in case of crisis. After that period it was maintained by volunteer ex-seamen with their two local associations.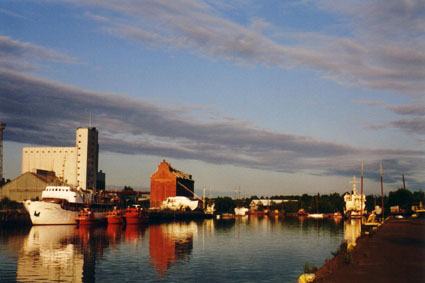 In 1999 the town of Oulu decided to give up Alpo and it almost got scrapped. Then ideas arose concerning its use as a museum ship or as a floating cafe. As a result it was sold to a company called Toppilan Möljä Oy. According to the deal made the vessel must be kept in Oulu, Toppila harbour where the town will offer for it a proper place for keeping and maintenance.
The main engine got going again after
a silent period of twelve years on Nov. 13th 2003.
| | | |
| --- | --- | --- |
| Video | | Video |
---